Simpson Strong-Tie, the leader in engineered structural connectors and building solutions, has introduced the Simpson Strong-Tie ECB elevated column base, which features added standoff height that makes it easy to install waterproofing and lightweight concrete topping when connecting column or post bases in multifamily construction.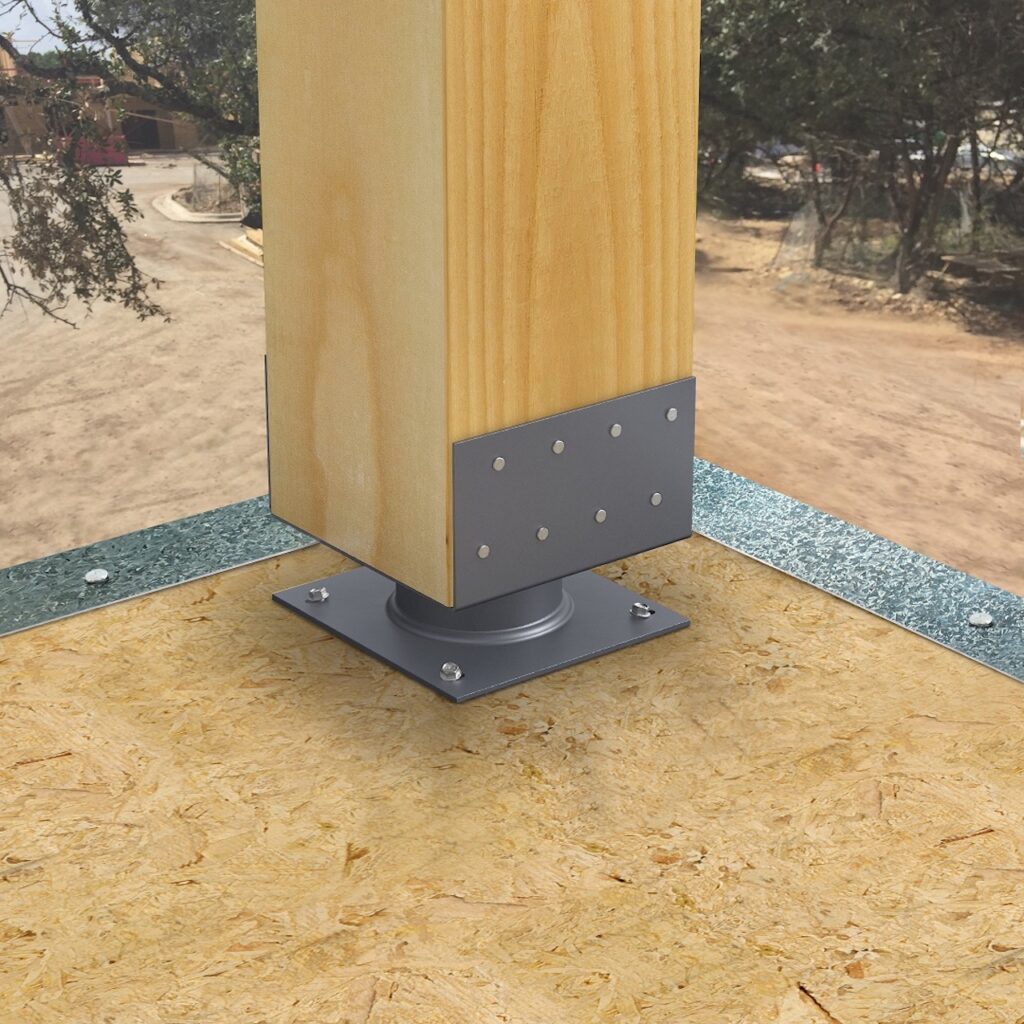 A continuation of the Simpson Strong-Tie ECBQ design first launched in 2011, the new ECB elevated column base features a two-inch standoff for installing waterproofing under solid or hollow-wood posts, or for the addition of lightweight concrete fill when installed over wood surfaces.
Easily attached to wood framing foundations using Simpson Strong-Tie Strong-Drive SDS Heavy-Duty Connector screws or anchored into concrete foundations with adhesive or mechanical anchors like the Titen HD screw anchor, the ECB provides added height allowing for the code-required one-inch standoff above finish surfaces to prevent post decay.
"As multifamily apartment builders ramp up construction this year, they continue to look for versatile and efficient solutions that can help alleviate labor challenges but still provide a distinguished design and the curb appeal to attract customers," says Bryan Wert, Simpson Strong-Tie Director of Connectors and Lateral Systems. "The new ECB delivers a fast, easy, and code-listed solution for connecting hollow column or solid sawn post bases and makes it easy to properly install waterproofing material while still maintaining the standoff to prevent post decay. "
Available in two sizes to accommodate both 6×6 and 8×8 hollow columns or solid sawn posts, the versatile ECB design allows for four-corner-hole installation in wood or single-center-hole installation in concrete, and is load rated, making it ideal for building stacked balconies on multistory, multifamily buildings that use a post to support an awning or roof.
For more information on the ECB and additional multifamily residential construction solutions from Simpson Strong-Tie, please visit strongtie.com/ecb.
About Simpson Strong-Tie Company Inc.
Simpson Strong-Tie is the world leader in structural solutions — products and technology that help people design and build safer, stronger homes, buildings, and communities. As a pioneer in the building industry, we have an unmatched passion for problem solving through skillful engineering and thoughtful innovation. Our structural systems research and rigorous testing enable us to design code-listed, value-engineered solutions for a multitude of applications in wood, steel, and concrete structures. Our dedication to pursuing ever-better construction products and technology and to surrounding our customers with exceptional service and support has been core to our mission since 1956. For more information, visit strongtie.com