NRLA Media WORKS for Your Company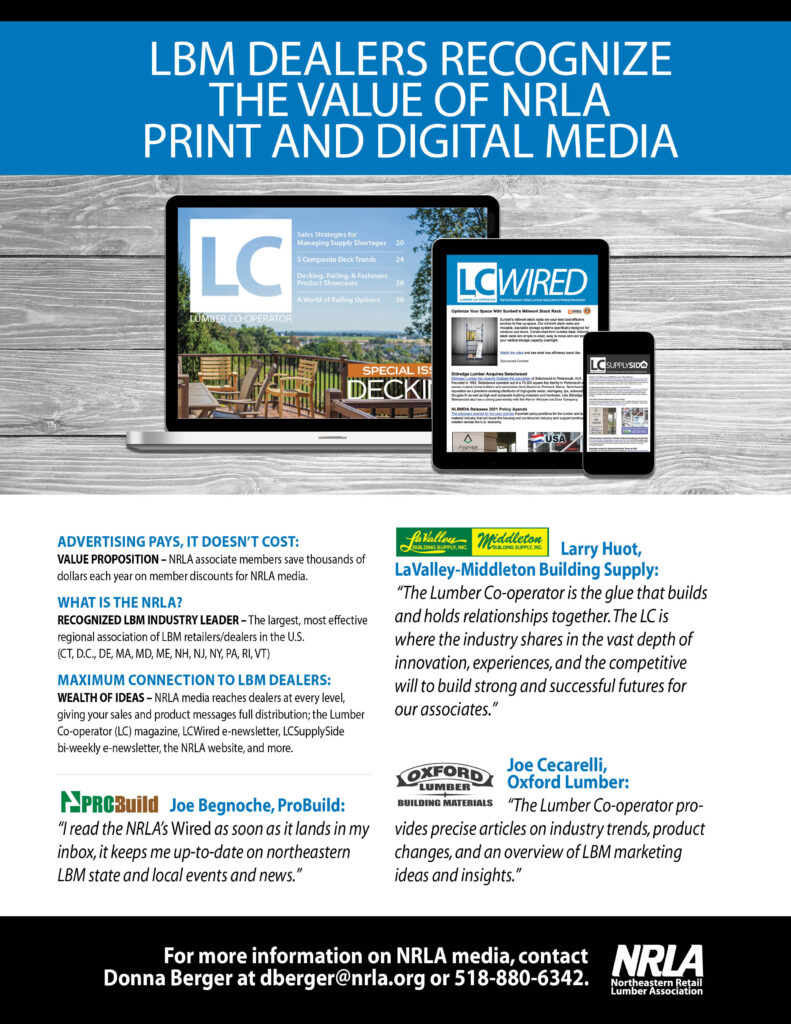 Here's why:
• 5 editions of the leading regional LBM publication in the industry, both in print and digital formats—Lumber Co-operator.
• 52 editions of the most comprehensive LBM e-newsletter in the northeast—LCWired.
• 26 editions of the best LBM product news e-newsletter in the northeast—LCSupplySide.
NRLA media works because the NRLA is the largest, most effective, most active and most connected LBM Dealer association in the U.S.
For more information on NRLA media advertising, contact Donna Berger  at 518-880-6342.
NRLA LBM dealer members are fully engaged in all NRLA media:
Joe Begnoche, ProBuild:
"I read the NRLA's Wired as soon as it lands in my inbox, it keeps me up-to-date on northeastern LBM state and local events and news."


Larry Huot, LaValley-Middleton Building Supply:
 "The Lumber Co-operator is the glue that builds and holds relationships together. The LC is where the industry shares in the vast depth of innovation, experiences, and the competitive will to build strong and successful futures for our associates."


Joe Cecarelli, Hood Distribution: 
"The Lumber Co-operator provides precise articles on industry trends, product changes, and an overview of LBM marketing ideas and insights."