(July 14, 2023) — Annually, the Mid-Cape team comes together to vote for a cause they would like to support in the E.J. Jaxtimer Charter Cup. This year, that cause was childhood cancer through Tommy's Place, a dream vacation home for kids fighting cancer and their families.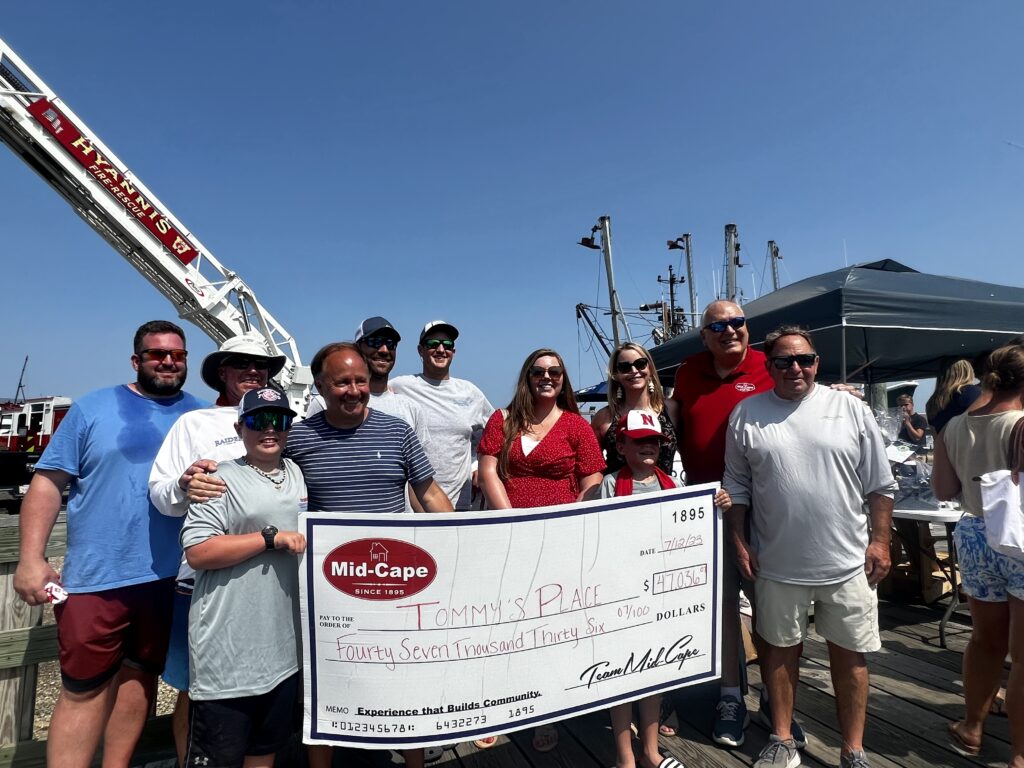 Tim O'Connell, Tommy's Place founder started this non-profit somewhat accidentally, not foreseeing that a generous offer to gift a young boy, Grifyn, battling cancer, and his family a stay at his Martha's Vineyard home would lead to an intense feeling to do more for this community of children. Named in honor of Tommy Leondard, the Falmouth Road Race founder, best known for his zest for life, kind heart and fun-loving spirit, Tommy's Place was designed to be an immersive experience, offering the very qualities that Tommy embodied to the children and their families that are referred to Tommy's Place by local New England hospitals like Boston Children's, Mass General Hospital for Children, Hasbro Children's, Dana Farber and many more.
Since inception, Tommy's Place has grown from Tim's personal property to two converted Inns, one in Falmouth, Ma and their brand-new addition in Centerville, Ma. The walls of the home's breathe life into you from the moment you walk through the door. Colors, characters, and sports icons blanket the walls and ceilings, each of the 10 plus bedrooms boasts brilliant themes allowing each child to be engulfed by an imaginative fairytale. Pools, taverns, game rooms and theatres allow for gathering spaces for unforgettable family memories to be made.
Families are given one exclusive week at a home in which they are allowed to invite family members, friends, caretakers, or whoever is part of their village, as it is so evident that fighting childhood cancer truly, takes a village.
---
Mid-Cape, a division of USLBM, is honored to have had the opportunity to get to know some of these incredible families and Founder/Operator Tim O'Connell throughout their fundraising endeavors. They kicked off their fundraising by selling tickets for private tours of the brand-new Centerville grounds. In addition, Mid-Cape partnered with New England Home and Hutker Architects to host an Issue Launch Party with a wonderfully successful Fund-a-Need component. They also hosted their annual virtual auction, raffles, and more on behalf of Tommy's Place to say that they raised $48,361! If you'd like to help them break $50,000 for this incredible cause, please donate here! https://www.accelevents.com/e/mid-cape-supports-tommys-place#donate