(AGAWAM, Mass., June 2023) FastenMaster, a division of OMG, Inc., is celebrating 25 years of providing professional building contractors with innovative products and fastening solutions that make work faster, easier, and more efficient.
Established in 1998, FastenMaster created the category of structural wood-to-wood screws with the introduction of TimberLOK, a heavy-duty wood screw designed to eliminate the need to predrill when attaching two pieces of wood together. It was the first of what has become the very popular 'LOK Line' of structural wood-to-wood fasteners for residential applications, and solidified FastenMaster's focus on providing PRO-Driven solutions.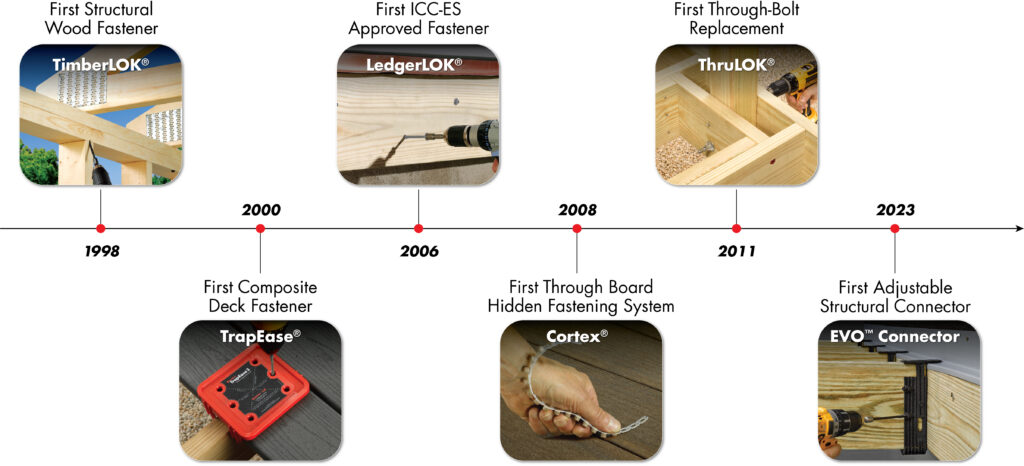 Since that beginning, FastenMaster has continued to differentiate itself by continually soliciting contractor feedback, and then developing highly engineered solutions that help improve installation productivity while delivering a premium finish. Through this process, they have revolutionized the industry with several breakthrough products, including:
TrapEase, the industry's first non-mushrooming fastener designed specifically for composite decking;
Cortex Hidden Fastening System, the first "through board" hidden system utilizing plugs and screws;
HeadLOK, the industry's first flat headed structural fastener;
ThruLOK, the first fastener to eliminate through-bolts by using a unique self-tightening nut to make connections in a fraction of the time;
TrussLOK (later replaced by FlatLOK), the first fastener to connect multiple beams of LVL single sided, up to 4-ply;
Tiger Claw TC-G Hidden Deck Clip, the industry's first stainless steel hidden decking clip for grooved boards;
TrussBrace, the first truss bracing solution that includes both lateral and diagonal support in one connection;
"By actively listening to our PROs, FastenMaster has helped contractors achieve great success by offering them the very best solutions on the market," said Web Shaffer, senior vice president and general manager. "Developing productivity solutions through innovation has been our north star during the past 25 years and we expect to deliver even more new and innovative solutions to the market in the next 25 years."
FastenMaster is a division of OMG, Inc., which has more than 600 employees globally, and more than 400 in Western Mass., making it one of the area's largest employers. In addition, OMG operates manufacturing plants in Agawam, Addison, Ill, and in Rockford, Minn., and has a global sales force of over 100 in North America, Europe, and Asia, including nearly 50 for FastenMaster. In total, OMG produces over 1 billion fasteners each year.
For additional information please contact FastenMaster at 800-518-3569 or visit www.FastenMaster.com.